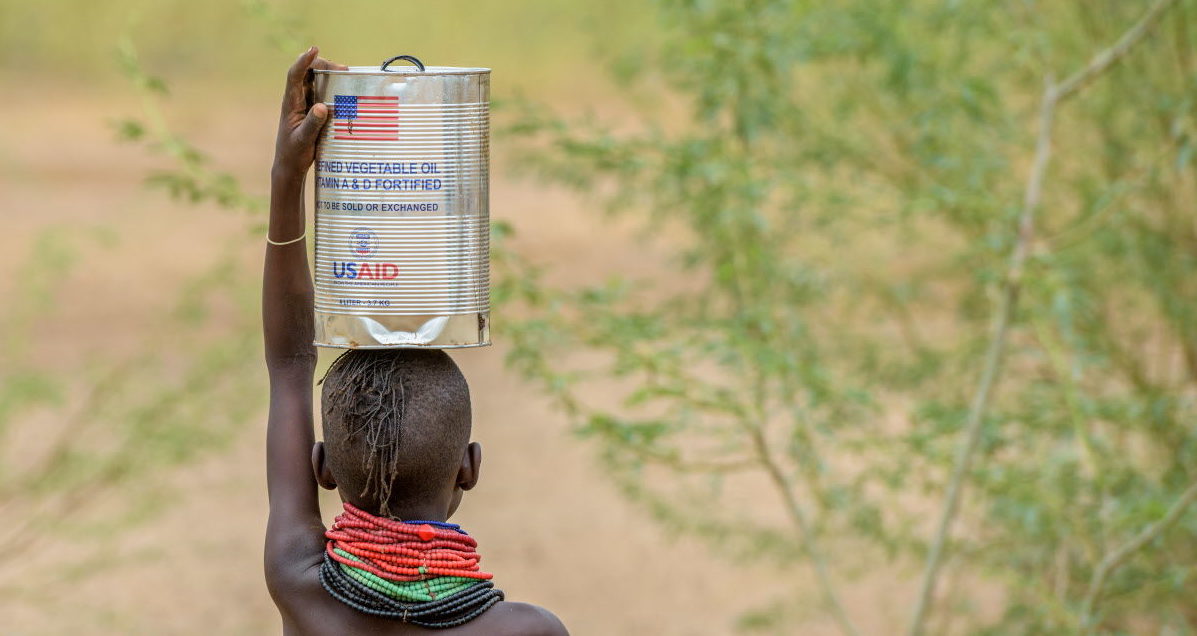 Even if you are familiar with the basics of foreign assistance – also called foreign aid or development assistance – here are ten things you may not know. (Not to mention, ten reasons to urge Congress to preserve this critical funding. Click here to do just that!)
1. Generosity isn't a one-way street.
During Hurricane Katrina, 95 countries offered foreign assistance to the United States. The number increases to more than 150 if you include offers of medical staff, emergency responders, or infrastructure experts. Afghanistan, Kenya, Yemen, and Vietnam each donated $100,000, Nigeria offered $1,000,000 and Thailand sent 60 medical workers plus rice, just to name a few. Gratitude and the benefits of helping global neighbors are recognized around the world.
2. It's only one percent of the entire federal budget.
Only one in 20 of Americans surveyed know the amount of the U.S. federal budget spent on foreign assistance. More than half of respondents say that foreign assistance is greater than 10 percent of the total budget and the average answer is that one-quarter of the U.S. budget is spent on foreign assistance – more than 25 times the actual amount!
When it is revealed to survey participants that the U.S. spends less than one percent of its federal budget on foreign assistance the percentage of people who, prior to the question, thought that the U.S. spends too much is reduced by half and the proportion of people who think we pay too little jumps from 11 percent to 26 percent.
3. Military generals and Christian leaders agree: It's worth saving.
Nonprofit organizations aren't the only ones concerned about preserving foreign aid. In 2017, more than 120 former three and four-star generals signed a letter to Congress saying that foreign assistance is"critical to preventing conflict and reducing the need to put our men and women in uniform in harm's way."
More than 100 American Christian leaders signed on to their own letter, citing morality. "795 million people still go to bed hungry every night. Matthew 25 tells us when we serve the least of these, we are serving the Lord."
4. When foreign assistance works, newly self-sufficient nations can become consumers.
Of the 50 top consumer nations of U.S. agriculture products, 43 are former U.S. foreign aid recipients. Without these countries, there would be less opportunity for farmers and producers in the U.S. to sell their products!
5. It hopes to put itself out of a job.
Foreign assistance has many benefits, but in late 2017 newly appointed USAID Administrator, Mark Greene, declared the purpose of the agency –
"The purpose of USAID foreign assistance is to end the need for its existence."
6. Foreign assistance isn't a blank check written to other governments.
In 2015, only 37 percent of U.S. foreign assistance went directly to other governments, and this includes governments that help with distribution. The remaining 63 percent bypassed governments all together – 26 percent went to organizations like World Vision! Multilateral organizations (organizations made up of participation from three or more countries) received 20 percent. Examples of multilateral organizations include UNICEF; The Global Fund to Fight HIV/AIDS, Malaria, and Tuberculosis; and the Food and Agriculture Organization (FAO). The remaining 18 percent went to other organizations, including U.S. universities and research institutes.
7. Many countries that used to receive aid are now valuable trade partners!
South Korea, Chile, Poland, Uruguay, Panama, and Costa Rica are among countries that were once U.S. foreign assistance recipients, yet are now valuable trade partners and have created their own international aid agencies.
8. It's always had bipartisan support.
After World War II, cities in Europe were destroyed and many people had been forced to flee their homes as refugees. In the U.S., Secretary of State George C. Marshall recognized the vulnerability of the people and worried that communism could expand into the unstable region. This spurred an act by Congress that over time, equated to $12 billion for the rebuilding of Western Europe.
Extensive investment into the region was paired with the recognition that the U.S. economy would be stimulated through the strengthening and creation of markets. Known as the Marshall Plan and with strong bipartisan support from the beginning, this was the first case of modern-day foreign assistance.
9. In addition to helping people, it can save animals and even prevent crime.
Foreign assistance can help animals, too. For example, The Nepal Tiger Genome project is working with local scientists to build a DNA database to record a unique genetic fingerprint for each Bengal tiger, an endangered species. Poaching and wildlife smuggling is largely done through organized crime groups and it helps funds their other crimes. The Tiger Genome Project is making it possible to track down poachers, stop the crime, and therefore help cut funding to groups that breed corruption, exploitation, and harm in communities. This also helps strengthen U.S. national security by keeping an estimated billions of dollars out of the hands of terrorist and criminal groups.
10. Foreign assistance and faith work hand-in-hand to change lives!
USAID has a center for faith-based community initiatives. The purpose is to convene faith-based organizations and community groups to catalyze new opportunities for collaboration with the U.S. government. One example is USAID's recognition of World Vision's Channels of Hope work, which helps stop violence against children in Latin America.
---
ACT NOW:
Ask Congress to support foreign assistance funding.
Photo: Families leave World Vision food distribution with bags of USAID-provided maize and cans of cooking oil in Turkana, Kenya. ©2017 World Vision, Jon Warren.