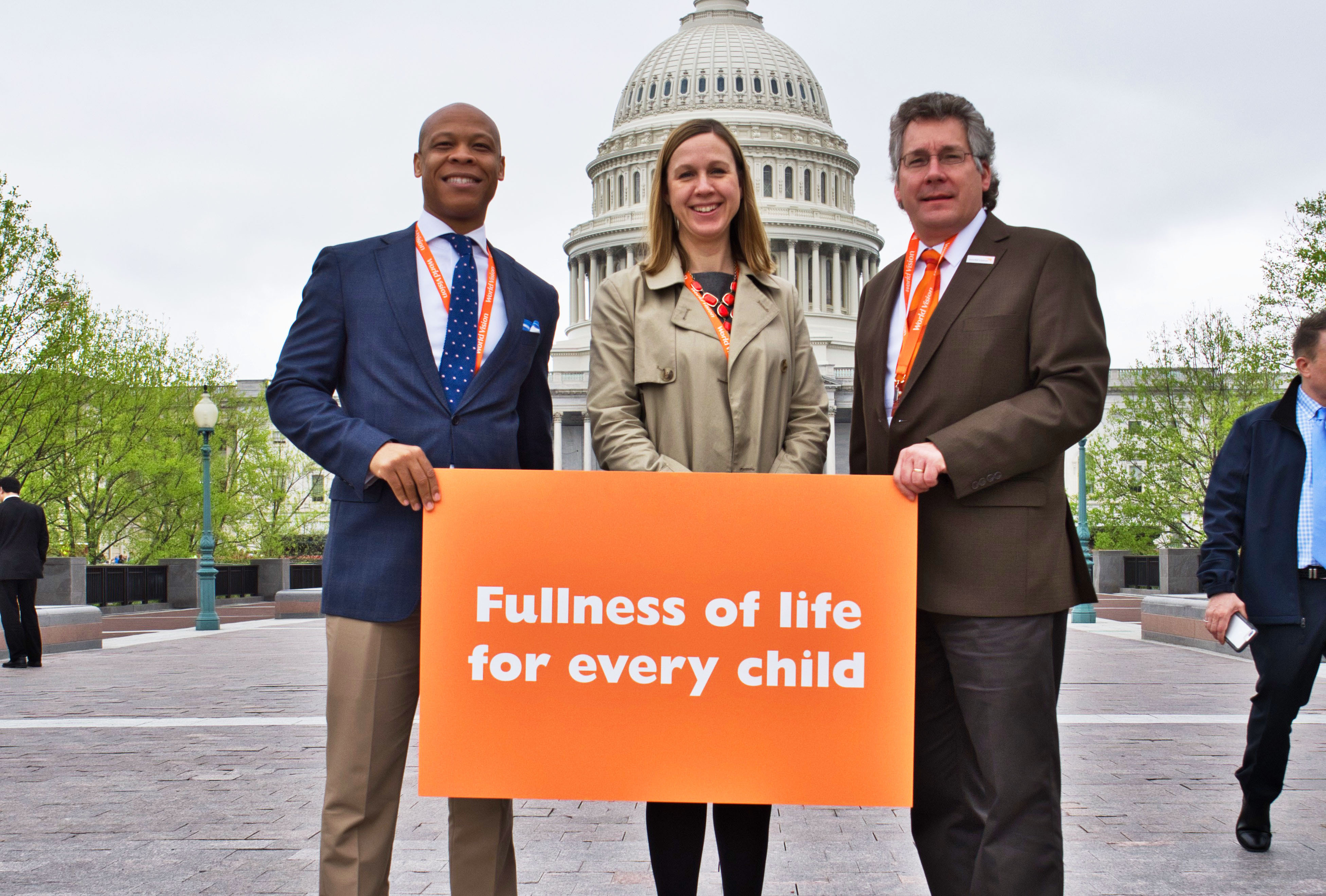 "How good and pleasant it is when God's people live together in unity!" Psalm 133:1 (NIV)
When we read David's words in Psalm 133, there's a sense of longing: Yes, please! How good it would be to live in unity with Christians around the world! At the same time, it can seem hopeless. With conflict blaring on the national news and our social media pages, it feels like there's nothing we can agree on. It's tempting to check out of the conversation altogether.
But recently, our elected representatives from both sides of the aisle showed us there's something that they can agree on, even if it's for different reasons.
Here's what both sides are saying about the effectiveness of U.S. foreign assistance:
There has been much discussion regarding the U.S. foreign assistance budget for fiscal year 2020 recently. Both the House of Representatives' Appropriation Subcommittee on State, Foreign Operations, and Related Programs (the Committee that deals with foreign assistance funding) and the Committee on Foreign Affairs had hearings in March where representatives from across the political spectrum shared their reasons for supporting robust foreign assistance funding.
The reasons varied, but the theme our representatives repeated over and over was that foreign assistance protects vulnerable populations, builds global stability, and protects American security.
Testimony from members of Congress to the State, Foreign Operations, and Related Programs Subcommittee (March 6)
Representative Eliot L. Engel (D-New York)
"I'm very glad to be back in front of this distinguished panel to reiterate a key point – that one of the most important things we can do to advance America's security, interests, and values around the world is to provide robust funding for our international affairs budget."
Rep. Engel spoke about how continued foreign assistance improves diplomacy, strengthens our allies, and makes the United States safer. When the proposed budget recommended sweeping cuts to foreign assistance in fiscal years 2018 and 2019, Congress rejected the cuts, and Rep. Engel encourages the Committee to continue its bipartisan tradition and reject the foreign assistance cuts in the 2020 proposed budget.
Representative Ann Wagner (R-Missouri)
"As a former Ambassador and Vice Ranking Member of the Foreign Affairs Committee, I cannot overstate America's centrality in safeguarding human rights, fostering peace, and promoting economic development, trade, and good governance worldwide."
Rep. Wagner testified about the importance of American leadership in leaving a better world for the next generation, and she noted that foreign assistance funds are vital in responding to crises. Rep. Wagner cites evidence that the ability to respond to global crises quickly actually saves taxpayers money. Foreign assistance is also key in ending human trafficking — one of her top priorities.
Representative James McGovern (D-Massachusetts)
"As you know, increased funding in nutrition enables USAID [United States Agency for International Development] to target nutrition interventions during pregnancy and the early, critical stages of childhood when better nutrition has the greatest impact on the child's development and brain growth. According to independent research, each $1 invested during this critical period yields a return of $48 in long-term health and economic benefits."
Rep. McGovern is a champion for global health issues, especially for nutrition support for mothers and children. He testified extensively on the importance of investing in the stability and well-being of Central America and Colombia.
Representative Ted S. Yoho (R-Florida)
"Thank you for your leadership and for the bipartisan atmosphere of respect and problem-solving that you have instilled in this Committee. You have the ability to shape America's future as a global leader by investing in diplomacy and development."
Rep. Yoho highlights the U.S. International Development Finance Corporation (DFC). Because of the establishment of the DFC, developing nations have access to loans, insurance, and other financial tools that can stimulate economic growth. Developing nations will pay back borrowed funds over time, but without becoming indebted to other developed nations with more exploitative policies.
Representative Adriano Espaillat (D-New York)
"As the first Dominican American to serve in Congress… I know that maintaining our foreign aid and diplomatic commitments builds a strong hand for the U.S. in the region. This is not only in the interest of helping our brothers and sisters in South America, Central America, and the Caribbean, but is also in our best interest to protect our security and improve our economic relations with these countries."
Rep. Espaillat points to the success of Panama, which went from receiving foreign aid to giving foreign aid to other Central American nations. Investment in these nations has improved relations between them and the U.S. He also highlights that U.S. foreign assistance, along with existing regional efforts, helped decrease violence in El Salvador.
Representative Ed Case (D-Hawaii)
"Our development efforts help spur economic growth and improve quality of life in our partner countries, thereby building their markets for trade with our economy. These efforts are closely connected with our work promoting good governance, democratic values, and human rights."
Rep. Case expressed concerns around Hawaii and the Indo-Pacific region. He testified about the importance of investing in the development in Indo-Pacific nations both to increase U.S. national security and to protect the area from rising threats.
Testimony from members of Congress to the Committee on Foreign Affairs (March 27)
"I believe that certain cuts can have unintended consequences that cost us more in the long term. This is especially true of cuts to critical humanitarian and developmental assistance programs that promote democracy, support economic growth, and provide lifesaving resources to bolster stability in areas at risk of terrorism and extremist ideologies."
Rep. McCaul's testimony focuses on the importance of American leadership in subduing global threats and preventing terrorism. He touches especially on fragile states being fertile recruiting grounds for terrorist organizations and urges the U.S. to increase prevention efforts by addressing root causes of conflict and violence.
"I firmly believe that strong investments in diplomatic and development programs are a central component of our national security. In fact, our most-senior military commanders have told us time and again that these critical tools help provide the means by which we prevent the need for military intervention."
Rep. Rogers' testimony to the House Foreign Affairs Committee focused heavily on national security. While the administration's proposed 2020 budget identifies the security of U.S. citizens, supporting allies, and increasing American prosperity as priorities, Rep. Rogers suggested that the budget would have more support in Congress if the funding levels were adequate to achieve those goals.
---
Take Action: Support U.S. foreign assistance!
Foreign assistance makes up only about 1% of the total U.S. budget. This small percentage promotes both American and global security and allows us to live in greater unity with all God's children.
Top photo: Pastors and advocates lobbied on Capitol Hill in support of children around the world in 2018. Photo by Lee Love/Genesis Photos.