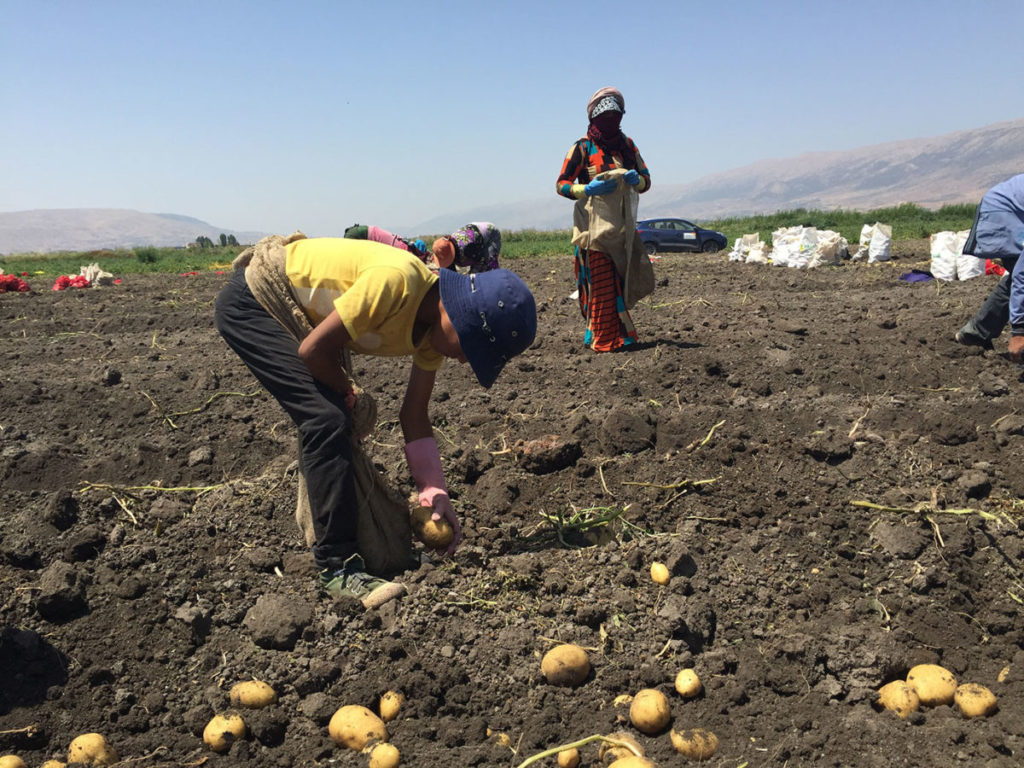 On this World Refugee Day, we must protect education for all refugee children.
Last week, Linda Hiebert, World Vision International's partnership leader of education and life skills, testified before the Senate Foreign Relations Subcommittee about the barriers to girls' education around the world. Linda focused on children affected by conflict and the difficulties that adolescent refugee girls face in continuing their education. In conflict zones, one in four children are not attending school, yet less than 2 percent of all humanitarian assistance is spent on education. This piece is based on Linda's congressional testimony.
"Bombs and fighting were everywhere," Fatmeh told us, "so we left to survive."
Fatmeh is a 15-year-old Syrian refugee who fled to Lebanon's Bekaa Valley with her family. World Vision collaborated with NPR to profile this intelligent young woman whose only hope is to someday go back to school again.
Many refugees like Fatmeh and her family have fled their homes in Syria for a more peaceful and stable environment but have now found a new set of challenges. In Lebanon, 60 percent of Syrian refugee children are involved in child labor, and 50 percent are now out of school.[1] As legal work for refugee adults is largely prohibited and as families fall further into debt, children carry the weight of providing for their families, sacrificing their education and oftentimes their safety.
"I had a dream that when I came here to Lebanon I would study and go to school here and become an Arabic language teacher here," Fatmeh says. "And then [I hoped] when I go back to Syria, my dream would have been achieved. But it did not work at all with me here."
Now, Fatmeh and her four siblings work 14-hour days in agricultural fields in the Bekaa Valley to help pay their family's debt to a Lebanese landowner who gave them a loan to help them escape Syria. When the foreman thinks the children aren't working hard enough, he hits them with a hard, plastic pipe. Despite the countless difficulties of living as a refugee, Fatmeh still holds onto a "very small hope" of returning to school someday. Her mother wants her children to go back to school, but the family doesn't have many options. "What can we do?" she asks. "We are forced to work."
More Issues for Girls
While all children are at risk to these education barriers, adolescent girls are particularly disadvantaged and are more likely to have their education cut short. Girls living in conflict-affected contexts are twice as likely to be out of school and 90 percent more likely to be out of secondary school.
Families struggle to send their daughters to school for a variety of reasons, whether it's lack of access to safe, quality, and affordable education; social norms that do not value education for girls; or cases like Fatmeh's where a girl must work to help support the family.
Our World Vision staff in the region tell us that refugee girls are also very susceptible to child marriage. Child marriage is one of the most common forms of gender-based violence due to this crisis and is a barrier to girls continuing their education. U.N. Refugee Agency data shows that 23 percent of Syrian refugees under age 18 in Lebanon old are married. World Vision is engaging with refugee parents about the importance of education for girls and provides cautionary messages about child marriage.
Looking at the Future
The statistics are disheartening, and the solution isn't simple. Indeed, we could witness a lost generation of Syria's children if these trends continue. In places like Lebanon, where the Syria crisis has seriously impacted the population, a holistic approach to education is required. Education success must not solely be viewed as being about enrollment; rather, the reasons refugee girls aren't in school must be addressed.
We must take on these critical issues in a way that looks at girls' physical, psychosocial, and educational needs and ensure they are appropriately resourced. Addressing girls' barriers to education requires a multi-sectoral response and the involvement of influential relationships in a girl's life, including governments, schools, religious and community leaders, community members, peers, and the girl's family. Only then will we begin to see the positive results of a girl empowered by her education.
Our goal at World Vision is to see every child experience life in all its fullness. In Linda's testimony before Congress, she made several recommendations to advance that mission. Linda requested that Congress prioritize funding for education in our foreign assistance, pass the Education for All Act [action expired], to prioritize basic education in developing countries, and continue support for the Education Cannot Wait fund, which meets the needs of children out of school because of conflict and natural disasters.
[1] World Vision Lebanon FY16-FY18 Child Protection Technical Approach, pp. 5-6
Please take a minute to email your members of Congress to speak for refugees [action expired].
Photo: Fatmeh and her siblings work in the field pictured even though they wish to be in school. © 2015 World Vision/ photo by Mona Mohamad Kheir