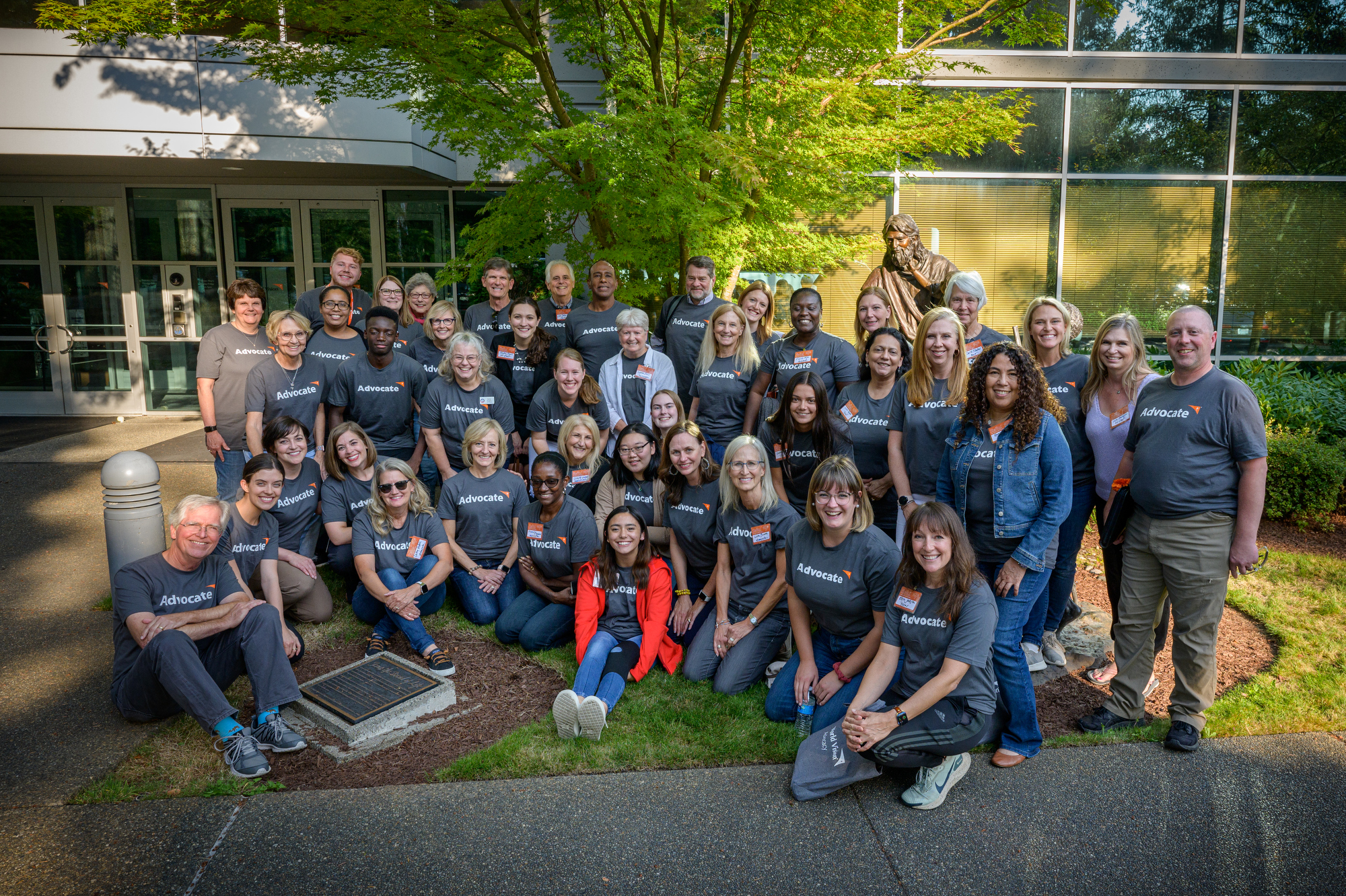 Estimated read time: Six minutes
As people of faith, we're called to "Rejoice always, pray continually, give thanks in all circumstances; for this is God's will for you in Christ Jesus" (1 Thessalonians 5:16-18 NIV). This is a bit easier in theory though, isn't it? Especially in the world of advocacy as we watch increasing political divisiveness paired with difficult realities for vulnerable families around the world. But there is always hope! If we take the time to pause and make it a consistent practice to reflect on God's goodness, the miracles and answers to prayer will fill our minds and hearts. This holiday season, I asked our advocacy team to share what they're thankful for. I was so encouraged by their optimism and spirits of gratefulness — and I hope you are too!
---
"I am filled with gratitude for our tireless, inspiring advocates, who volunteer their time to bring the voices of children into the halls of Congress. They have repeatedly shown their commitment to this ministry by speaking truth and love into the offices of their elected officials and building prayerful relationships with them so that our leaders recognize their own God-given potential. As constituents, they are truly able to move hearts and minds through sharing what matters to them: children experiencing life in all its fullness. It is a blessing and privilege to embark on this journey of kingdom work, every day, with these brothers and sisters in Christ across our nation. What an incredible movement to be a part of!"
— Hayley Struzik, Grassroots Organizer
"As a newcomer on the Advocacy team, I have been so thankful for the tenacity and drive from the team. It is so inspiring to work alongside such talented people who truly love what they are doing. They have seen incredible results from the hard work that they have poured into on advocating for children."
— Madison Callahan, Advocacy Project Coordinator
"Let's face it, it's been a rough year. As the world began to emerge from the worst of COVID, we were horrified by violence in Ukraine. Then we watched as many nations faced extreme hunger as the effects of inflation, food shortages and rising prices set in.
Yet through it all, our amazing advocates – ordinary people with extraordinary faith and commitment – stepped up in unprecedented ways and unprecedented numbers! More than 79,000 emails, calls, social media posts and more than 160 in-person meetings with members of Congress is an all-time record for our Advocacy work! It has truly been "immeasurably more than all we ask or imagine, according to his power that is at work within us." (Ephesians 3:20 NIV).
So, yes. I am thankful! For everyone who pulled out their phone, or sat down at their computer, or dressed up for a meeting with a member of Congress or their staff (whether virtual or in person!) You are heroes! And along with my gratitude comes the gratitude of a million smiling faces in more than 100 countries around the world where your voice has made a difference. Thank you, World Vision Advocates!"
— Steve Reynolds, Director of Advocacy Mobilization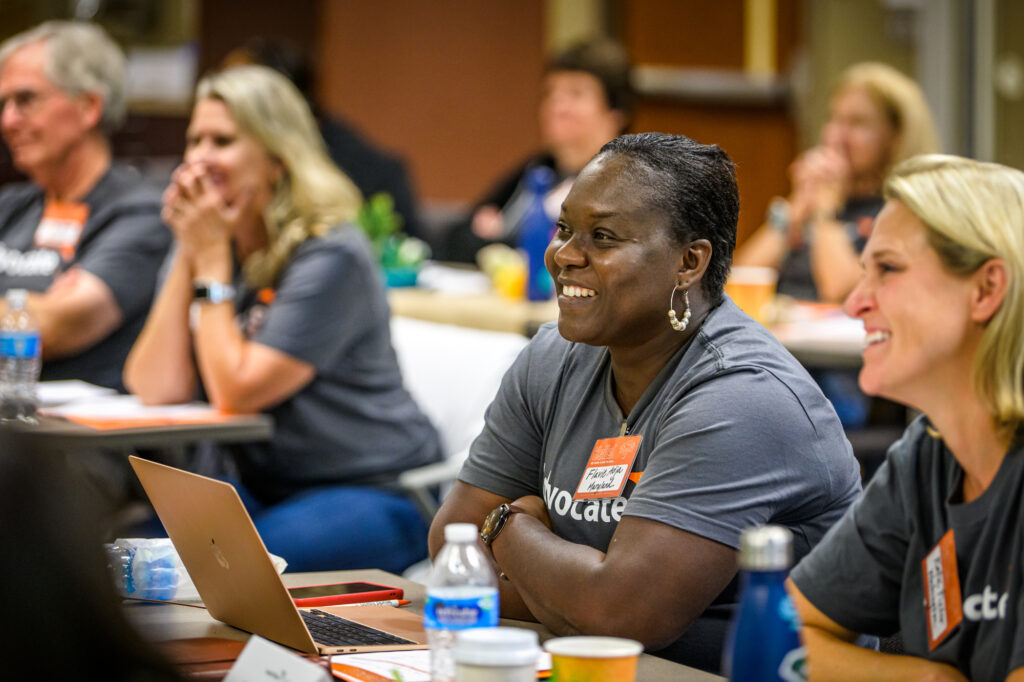 "On the Advocacy team, one of our go-to sayings is that "advocacy is a marathon, not a sprint." It's been a tough run this year with many obstacles, from violent conflicts to a growing global hunger crisis. But through every challenge, the World Vision community and our Advocates have run the race well. They have so faithfully and lovingly used their voices to speak up about the issues that affect children. Because of them, we've seen legislative victories on malnutrition, human trafficking, and humanitarian aid for displaced people. I'm so grateful for each Advocate who not only hopes for a safer world for children but acts boldly to realize it!"
— Ian Dyke, Advocacy Communications Specialist
"In Hebrews 10: 23-25 we are encouraged: 'Let us hold unswervingly to the hope we profess, for he who promised is faithful. And let us consider how we may spur one another on toward love and good deeds, not giving up meeting together, as some are in the habit of doing, but encouraging one another—and all the more as you see the Day approaching.' This has been a joyful and fulfilling year for me joining the amazing Advocacy Mobilization team.
Our advocates worked diligently to speak up in more congressional offices this year than ever before. When there was a need to advocate for issues around hunger and Ukraine, our advocates did not hesitate. We continued to find community in online spaces and virtual meetings, but the highlight was getting together in person for Advocacy CAMP. It was a true delight to meet with advocates in living color as we learned, prayed, and worshipped together for the first time since 2019. New advocates leaned into a new challenge, while long time advocates had the chance to share their experience and gain new insights. May we continue to be thankful for times we are together and remain faithful when we are apart."
— Courtney Crowder, Grassroots Organizer
"In the midst of such a divisive year politically, I've been so encouraged by the focus and determination of our team and all of the volunteer advocates that continue to offer their time and energy on behalf of our work. Because of this commitment, we saw strong progress on critical legislation like the MINDS Act and increases in critical funding for vulnerable children and their families.
Through the challenges and successes of the year, I've been so thankful to work with individuals within and without our organization that are so intentional in focusing on Christ and helping to realize life in all its fullness for children."
— Nate Lance, Senior Policy Advisor for Child Protection
"I've been so encouraged this year by the persistence of our team and of our advocates. Advocacy is hard and it can take a long time to see results, but this year we had bills we worked on signed into law (the Global Malnutrition Prevention and Treatment Act) and other bills move through Congress in significant ways (Keeping Girls in School Act, Global Food Security Act, and the MINDS Act). Sometimes we focus on what we didn't get done over the course of a year, and certainly we may end this year without achieving everything we had hoped, but I'm so thankful that we saw prayers answered and God's favor to move hearts and minds in Congress!"
— Lisa Bos, Senior Director of Government Relations
"In this season of thanksgiving, I am so grateful for the posture of thankfulness our team practices every day. By centering Christ in our work, we give all the glory to God, for everything we give Him thanks and praise. Even amidst more difficult times, we know that we can take learnings from every experience to become more efficient and effective in our mission, every day."
— Abbie Treff, Senior Project Coordinator
All of us here at World Vision Advocacy hope you have a happy Thanksgiving, filled with moments of gratitude and love! We are so thankful for all of the ways you've used your voice and influence to help those in need in 2022.
Join our Advocate network:
Looking for ways to put your faith in action? Sign up to receive weekly emails with actions you can take to speak up for justice:
Top photo: Advocates gather together at the World Vision headquarters in Washington State for the annual Advocacy Camp. (©2022 World Vision/Jon Warren)