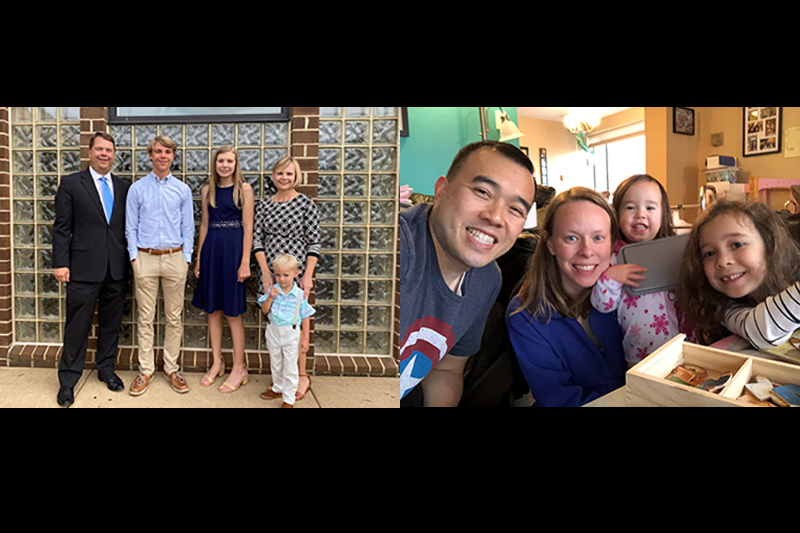 Estimated Read Time: Eight minutes
Can our government leaders get anything done? Do they ever do anything besides argue?
We've all heard rhetoric like this, and very likely, we've used it ourselves. We're understandably frustrated when we experience government shutdowns, bills stalled in Congress, and mixed messages coming from our leaders.
But we're often not seeing the whole story. God has called many members of Congress and their staff to public service. There are people on both sides of the aisle working together for the good of our nation. It takes effort to see that good, especially when the bad news seems overwhelming.
That's why we contacted both a Republican and a Democrat working in government to talk about faith, working together, and what really happens in Congress. We talked to Colleen Ramsey Nguyen, Senior Health Policy Advisor to Rep. Ami Bera, M.D. (D–CA), and Jon DeWitte, Chief of Staff for Rep. Bill Huizenga (R–MI). Though interviewed separately due to scheduling challenges, both shared a clear message of hope for our nation's government.  
Here are 7 things they want Americans to know about working together in Congress:
1. We ARE working together   
Both Colleen and Jon shared that leaders from different sides of the aisle work together more often than people realize, and they both lamented that too often, that collaboration goes unnoticed.
"Conflict is often the only thing that people hear about," Colleen says, "Try to assume the best and give people the benefit of the doubt. We're working because we want to work and do a good job!"
Jon shared similar thoughts, "A frustration that we have is that we do do a lot together, whether it's opportunities for job training, education that benefits folks back in the district, environment, job creation, you name it. There's so many more bipartisan issues than there are partisan ones." Jon also shared frustration that it often feels like the media is more interested in covering conflict than collaboration.
Colleen agrees. "Every single week we pass bills on the floor in a nearly unanimous way. No one ever reports on that because it's not exciting! There's no drama. Bills are often small, but still important," she says.
2. We often want the same things
While we may disagree vastly on how to reach our goals, both interviewees emphasized the need to remember that our ultimate goals are often the same: to make things better.
"The issues are difficult, or we would have figured out a way to solve them by now," Jon says. "We believe that whatever party, everybody's here for the same reason — because they want to make our country better. We don't agree on solutions all the time, but if you have an open mind and you're thoughtful in how you interact with people, you can get closer to a favorable results rather than by thinking that you have to score points in every interaction that you have with people."
Colleen's thoughts were similar: "Most people are just trying to live a good life and provide for their families. I try hard not to question people's motives. They want to make America better. Everyone comes to Congress thinking that they at least want to improve their congressional district — at a minimum. They think, 'I have ideas to make my community better.'"
3. Compromise is a key
"Civility is probably the most important thing from our standpoint," Jon says. "Most situations are not life or death and compromise is usually a likely outcome and 100% victory is not often likely, especially when you're dealing with public policy."
Again, Colleen had similar sentiments, emphasizing the importance of character. "We can always find something to agree on and work toward," she says. "We don't have to agree on everything. Sometimes it's someone's character and integrity in the one thing we're working on that matter more than agreeing on every issue."
4. Faith guides our work
Did you know that more than 90% of Congress are people of faith? For Colleen and Jon, and many people working in our government, values aren't reserved just for Sundays.
"Being active in my church fills my cup outside of work so that I'm ready when I do go to work," Colleen says. "You have to believe in what you do every day. … [There are] always going to be days where you're like, 'This isn't the best way to do this.' But my faith is a set of values for what I believe the world should be. As long as I continue to carry out those values and my work doesn't conflict with those values, then I can know that I'm working for my own values and I know I'm okay."
Jon's faith also guides his work. "If I'm doing it right using my faith, it should help guide just about everything I do," he says. "At the church I go to now, all those things play a component — how I interact with other people, constituents, if I'm doing my job right — it's at the forefront of all the decisions we make and all the interactions we have."
5. We spend a lot of time listening
"I need to spend more time asking questions than saying I have the answer—more time listening than talking," Colleen says. "I try really hard to understand where people are coming from, and it's sometimes really hard! It's easy to just write people off, but I try really hard to understand why someone might think that way."
Jon's thoughts were similar when asked about his strategy for working with people he disagrees with. "I found I learn a lot more by listening than by talking, so that's usually key! I like to surround myself — whether staff or people we're engaging — with people who are smarter than I am. … The more I listen the more I learn," he says.
6. Relationships matter
It is not easy connecting with people we disagree with, but both Jon and Colleen emphasized the need to do exactly that to be effective in their work. "It's important to get to know people as people and connect with them in that way," says Colleen. "What we sometimes have to be very deliberate about is finding ways to spend time with people we don't agree with. … You have to seek out those opportunities if you're committed to working with other people."
Jon agrees. "The broader groups that we reach out to and the wider net we cast, the better the inputs we get," he says. "If we reach out to a group who's never been supportive or even critical of a bill, oftentimes you can find if you have a conversation and get to know them, you're surprised that you have much more in common than what you differ on."
7. Advice for building common ground
We asked Colleen and Jon if they had advice for those frustrated with what can feel like an insurmountable divide in our nation. Once again, their answers shared a common theme of hope.
"I think folks in Washington D.C. get a really bad rap," Jon shares, "and I want to show folks that there are a lot of people that care about the country and policies and their faith. They're not separate things — they can all be rolled into one. There's hope yet for people who work behind the scenes in Washington."
Colleen wants to encourage us with the simple fact that we can build common ground — it's 100% possible. "If I'm working with someone, that means we found something to work on together which is a good thing! … You can find something you agree on with literally every member of Congress."
If we commit to looking for it, we can find reasons for hope in our world, our nation, and our leaders. This election season (and always!) let's look for ways to increase connection and collaboration with those around us, even if we don't always see eye-to-eye.
Here are a few ideas to encourage working together in our nation:
We can pray for our leaders.
We can engage with our leaders on issues we care about, acknowledging that just as Jon and Colleen noted, we can work with people even if we don't agree with them. "We respect it when people write in with personal/specific questions," Colleen says.
But the fruit of the Spirit is love, joy, peace, forbearance, kindness, goodness, faithfulness, gentleness and self-control. Against such things there is no law.

—Galatians 5:22-23 (NIV)
---
Special thanks to Jon DeWitte and Colleen Ramsey Nguyen. Jon lives in West Michigan with his wife and three kids. When he's not playing chauffeur on the way to his kids' sporting events, he enjoys hiking, kayaking, and being involved in his church. Colleen lives just outside Washington, D.C., with her husband and two daughters. She likes going out to eat (when not in quarantine!), visiting local museums and monuments, and is actively involved in her church. Currently, she's training to be a breastfeeding peer counselor.
Join the Online Advocate Network:
Looking for ways to positively engage on bipartisan issues? Sign up to learn about easy actions you can take to advocate for justice with World Vision!
Top photos: Jon DeWitte and his family (left) and Colleen Ramsey Nguyen with her family (right).