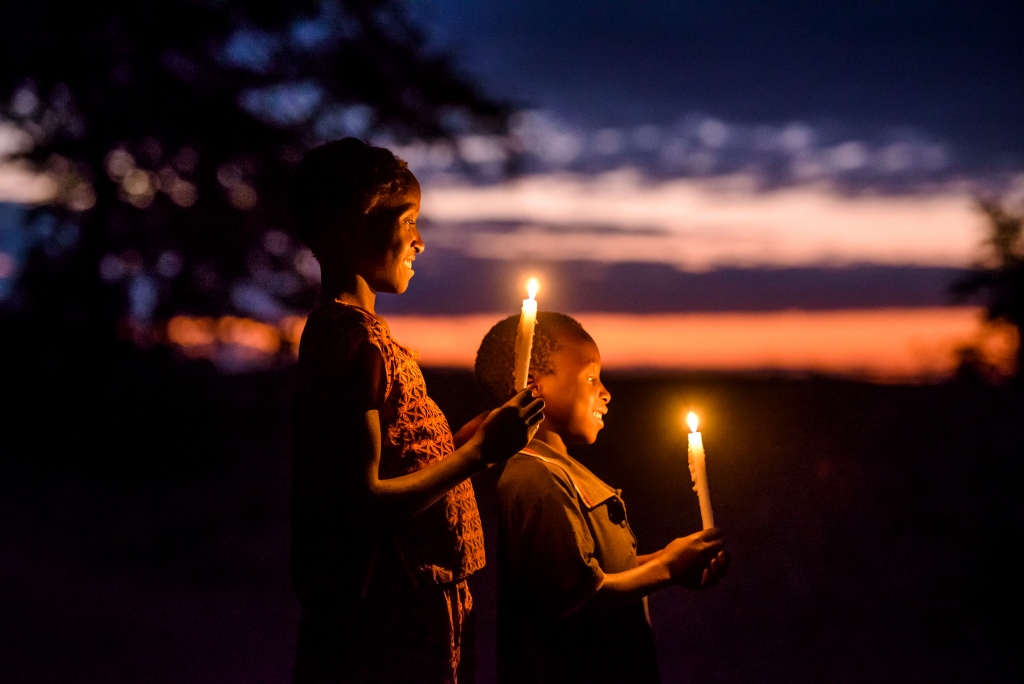 This Advent season we are reflecting on the different candles of the Advent wreath and how their themes relate to our role as advocates for Christ. Advocate Sarah Ellis from New Jersey provides insight on the third candle of joy for part three of our five-part series.
By Sarah Ellis
"'For I know the plans I have for you,' declares the LORD, 'plans to prosper you and not to harm you, plans to give you hope and a future,'" Jeremiah 29:11, NIV.
It's easy to question such a promise from God when we live in a world that is filled with so much suffering,
Eight-year-old Virginia O'Hanlon who wrote a letter to the editor of New York's Sun in 1897 questioned the existence of Santa Claus in the same way many adults question the existence of God, or God's intentions for us to "prosper" and live a life "unharmed", when so many of His children live in the midst of war, poverty, and disease.
We forget that, like sheep, it's our natural tendency to wander away from our Good Shepherd and become obsessed with pursuing our own wants and desires. Even when our heart's goal is to end suffering, distractions we face every day can allow pain in the world to grow, and at times even perpetuate.
When this happens, our communication with God becomes spotty. Much like a cellphone signal deteriorates as we drift away from a cell tower, we deny ourselves the reception of God's wisdom and counsel! Moreover, we miss out on the amazing plans God has in store for us.
Just as Mary probably never imagined she would be blessed with the responsibility of giving birth to Jesus, we can't possibly begin to imagine what God has in store for our lives!
"'For my thoughts are not your thoughts, neither are your ways my ways,' declares the LORD," Isaiah 55:8, NIV.
The only way we can see what God has in mind for us is to stick close to our Good Shepherd. This way, we become confident and accustomed to taking actions that lead to a more peaceful life and, ultimately, peace on earth!
This doesn't mean that we will never experience sadness or hardship. What it does mean is that, with the help of our Good Shepherd, we are never alone and, like Mary, we can joyfully play a part in God's supernatural tapestry for mankind.
For me, this includes heeding God's call to be an advocate for children and helping alleviate their suffering by working with World Vision. Knowing that I am being used as an instrument of God's will and helping reveal "…the goodness of God in the land of the living." (Psalm 27: 13) has given my life an incredible sense of purpose and joy. Just think, I am playing a role in helping the following to manifest in the physical world:
"Of the greatness of His government and peace there will be no end. He will reign on David's throne and over His kingdom establishing and upholding it with justice and righteousness from that time on and forever. The zeal of the Lord Almighty will accomplish this," Isaiah 9:7, NIV.
Therefore, let us joyfully continue our partnership with God as He leads us on the incredible journey of transforming "earth as it is in heaven" and getting us back to the Garden of Eden (Paradise)!
As Jesus says in Matthew 11:28-30, NIV:
"Come to me, all you who are weary and burdened, and I will give you rest. Take my yoke upon you and learn from me, for I am gentle and humble in heart, and you will find rest for your souls. For my yoke is easy and my burden is light."
Yes, Virginia, there IS a Santa Clause! It's an easier, softer way — God's way — through the birth of Christ.
Sign me up and praise the Lord!
Sarah has been advocating for World Vision since 2015 and lives in New Jersey with her husband and daughter. Sarah felt led to become a World Vision advocate shortly after the birth of her daughter. 
Photo: Nathan Muzyamba, 7, and his sister, Trinity Muzyamba, 12, holding candles at sunset in Moyo ADP, Zambia. ©2017 World Vision/photo by Jon Warren