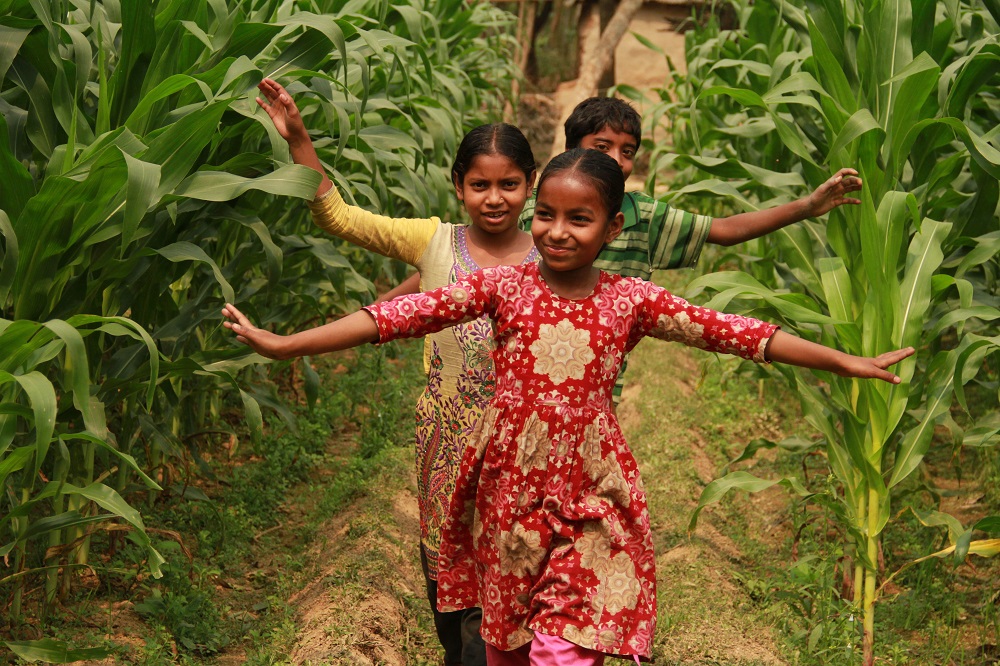 Update: World Vision is urging members of Congress to take swift action and work with Congressional leadership to enact the Global Food Security Act and bring this bill to the President's desk. In the words of our partners at Bread for the World, "Who doesn't appreciate a 'thank you' once in a while? It communicates, 'I see what you did. It was important to me.'" Let Congress know that their work on global food security is important to you by saying thank you and asking them to do everything they can to help this bill become a law. Click here.
While we are not across the finish line just yet, last night the Senate passed the Global Food Security Act (S.1252). After a positive House vote earlier this month, we are the closest we have ever been in ensuring this bill becomes a law — a HUGE accomplishment that has been years in the making! World Vision advocates have played a significant role in achieving this milestone and we want to say thank you! We also want to ask you to thank your Senators — let them know that you are paying attention and that you appreciate their work on issues that help those who live in poverty.
In a joint statement with 67 other organizations, World Vision released the following —
As organizations engaged in efforts to end global hunger, malnutrition, and extreme poverty, we applaud the Senate for passing the bipartisan Global Food Security Act (S.1252). We thank Senators Johnny Isakson (R-GA) and Robert P. Casey Jr. (D-PA) for their leadership and originally introducing this important piece of legislation, as well as the 13 other Senators that joined them as cosponsors of the bill. These Senators are well-known leaders in the fight against global hunger and malnutrition, as well as champions of small-scale producers' efforts to lift themselves out of poverty. We also thank Majority Leader Mitch McConnell (R-KY) and Minority Leader Harry Reid (D-NV) for their leadership.
Globally, 795 million people are hungry and malnutrition causes nearly half of all deaths of children under 5 (3.1 million children) each year. Hunger and malnutrition prevent millions of people in developing countries from living healthy, productive lives and stunt the mental and physical development of future generations.
After decades of declining support for farmers in developing countries, renewed U.S. leadership from President Bush and now President Obama has sparked a global commitment to help people feed themselves. Governments, nongovernmental and civil society organizations, academic and research institutions, businesses, multilateral institutions, and producers themselves have all recommitted to fighting extreme hunger and malnutrition through new agriculture-focused investments. The impacts are clear. Growth in the agriculture sector is 11 times as effective at reducing poverty as growth in other sectors in sub-Saharan Africa.
The Global Food Security Act is an exciting step forward in building the political will needed to end global hunger and malnutrition in our lifetime. The Act includes the development and implementation of a comprehensive, whole-of-government strategy to combat hunger and malnutrition in developing countries. The strategy focuses on increasing sustainable and equitable agricultural development; reducing global hunger; and improving nutrition – especially in the key first 1,000 days between a woman's pregnancy and her child's second birthday. The legislation also promotes country ownership and accountability, improving upon existing monitoring and evaluation practices to ensure U.S. taxpayer investments are implemented transparently, efficiently, and effectively.
We support final passage of the Global Food Security Act. We look forward to continuing to work with Congress and the Administration to make the Global Food Security Act law and ensure U.S. leadership continues to sustainably tackle global hunger, malnutrition, and extreme poverty in the most effective ways possible.
Photo: © 2016 World Vision