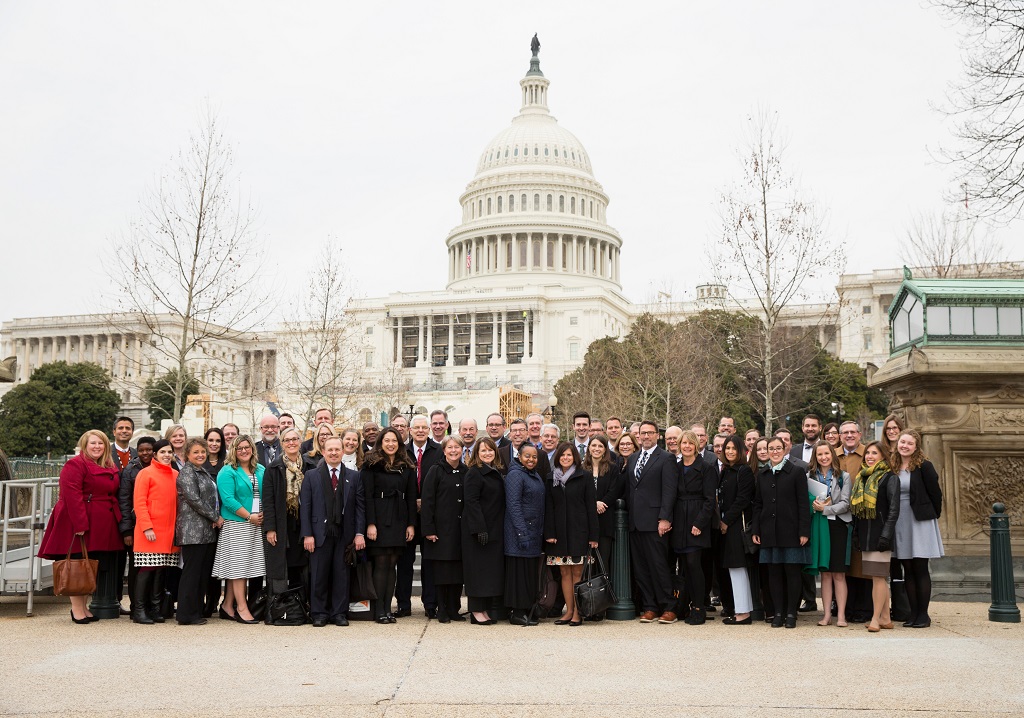 An advocate is anyone who pleads another's cause. Advocacy — whether signing a petition, writing your member of Congress, calling government officials, or even meeting in person with a representative — can be intimidating, hard, and at times, discouraging. Of course, it's not all bad or else no one would advocate! In fact, it is quite rewarding to see the fruits of persistence pay off. But to stay emboldened in advocacy, it is important to saturate this work in prayer. Pray for advocates around the world, the ones in your community, the ones you know, and perhaps your own advocacy, today.
Pray for advocates to approach advocacy strategically.
For advocacy to be effective, it is important to be strategic. This means using tools like stories, stats, research, and various other tactics to make your interaction with your members of Congress stand out. But it is also important for advocates to be kind and to not only seek their own interest in these meetings but to also be open to how they can help their representatives. Pray that advocates have the wisdom to approach their advocacy strategically in order to better influence people to support the programs and people they advocate for.
Lord, thank you for providing tools and wisdom that can be used to strengthen our advocacy for your cause. Please help advocates use these tools with discretion. Guide their actions and their words so that their advocacy may glorify you, God.
Pray for the hearts of advocates.
As an advocate, it is easy to get tired, overwhelmed, or simply lose touch with why you started standing up for an issue in the first place. Pray for God to remind advocates of their dedication to helping those in need.
Your heart breaks for the most vulnerable every day, God. Please, soften advocates' hearts toward the least of these as you talk about in Matthew 25. Don't let advocates become numb to the struggles of the widow and the orphan, the refugee, or the disabled. Rather, inspire them, Lord, whether with new stories, a powerful interaction, or simply, a nudging from You.
Pray for the encouragement and focus of advocates.
It could be that a bill doesn't pass Congress the first time around or simply that a representative doesn't respond as hoped or expected, so at times advocates need encouragement. Pray that advocates are energized in their interactions with one another and that their elected officials are supportive in their advocacy efforts. Also, pray for God to show them the impact of their advocacy no matter how small it may be so that they remain focused on the issues that are important to God.
Lord, thank you for the community of advocates at World Vision and for those who advocate for the same issues but who may not be connected to us. We ask that you bring them encouragement, not only in times of success but also in times of struggle. Punctuate the small wins so they are not overwhelmed by the complexities of the issues they are working on but see progress all along the way to stay focused on your work.
Pray that advocates are a light in their community.
When advocates raise awareness for the issues they care about in their communities and with their representatives, they amplify the voices of the people who are affected by these issues, people who are rarely heard. Pray that advocates shine a light on the issues that impact those in poverty and are an inspiration for others who are looking for ways to partner in your kingdom work.
As advocates speak out on issues that are close to their hearts, help them do it in a way that brings honor to you, Father. Help them to be a light in their community, illuminating issues that may not get much attention but that you nevertheless care about. Let that be a motivation to others to advocate on behalf of those in need.
Pray for advocates' relationships with offices.
Advocacy doesn't have to be a transaction. In fact, we believe that as Christians, advocacy should be approached relationally. God calls us to be in communion with one another, and when we work in partnership to serve God, good things happen. Pray that advocates approach their advocacy prayerfully and relationally. Ask God to bless advocate and office communication so that together they can help children everywhere thrive.
God, we are so grateful that you call us to be in fellowship with one another. Help advocates carry that charge into their meetings and work. Let advocates and their representatives see that together they can serve you by serving the least of these, who are our brothers and sisters in Christ. Amen.
Photo: The World Vision Pastor and Influencer Advocacy Summit in Washington, D.C. © 2017 World Vision/ photo by Garrett Hubbard