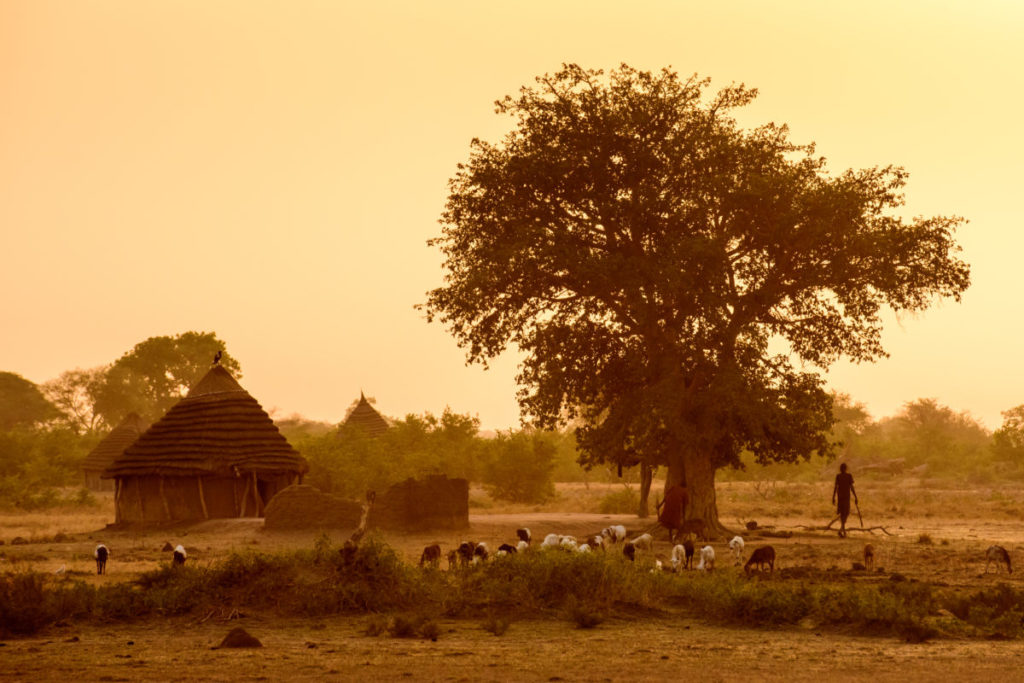 Stephanie Hammond, World Vision policy adviser for conflicts and disasters, just returned from a trip to South Sudan. During her two and a half weeks in the country, she met the people affected first-hand by conflict, price inflations, and lack of aid.
This week, I spoke with a mother, Elizabeth*, whose eight-month-old daughter suffered from severe malnutrition and is now receiving treatment in one of World Vision's nutrition clinics in Juba, South Sudan.

Just this week, famine was declared in parts of South Sudan. Famine is declared only when substantial deaths have occurred at a rate of more than two in 10,000 every day due to lack of food or in combination with disease. One-hundred thousand people in the world's newest country are at risk of starvation and 4.3 million are extremely food insecure. About 5.5 million people – about half of South Sudan's population, will face severe food shortages by this summer if current trends are not immediately addressed.
Children under 18 make up 55 percent of South Sudan's population, with 19 percent of the population under age 5 – this is a crisis affecting children; they are especially at risk during this time of severe food shortages. "The situation facing children who were already hungry and going without meals is now rapidly unraveling," says Perry Mansfield, World Vision's national director in South Sudan. "If aid funding and deliveries are not immediately scaled up we should expect to see children facing a catastrophe and starvation and migration to find food on a massive scale."
As Elizabeth bounced her little girl on her lap, she told me about an ice cream shop that she previously owned in Juba. Her eyes lit up, it was obvious in more than just her words, as she talked about how she loved running her business, the joy and fortune this little shop had brought.
Then, a pained look shot across her face. Elizabeth began to tell me about how the conflict in Juba last July impacted her and her young family. "The fighting was horrible", she said. Her family was displaced from their home in Juba. Food prices dramatically escalated, and she could no longer afford to buy cream and sugar, essentials for her ice cream business. Her husband owned a motorbike store. Soon after the conflict, he could not make the next rent payment for his store and he also lost his business.
With both Elizabeth and her husband out-of-work, her family had to resort to eating one meal per day to make ends meet. Her infant daughter suffered as a result and became severely malnourished. One day she was walking past World Vision's nutrition center and made aware that the center could provide her daughter with the care she so desperately needed. Elizabeth said that "she had a different child," when she walked by the center several weeks ago. Now, her daughter was "transformed."  World Vision's nutrition programming and the treatment for malnutrition very likely saved her life. Her face shined with pride as she looked over at her daughter and remarked how today she was a "healthy, happy baby."
"This famine is man-made," says World Food Program country director Joyce Luma. She cites the three-year civil war as the greatest obstacle to massive humanitarian efforts to bring relief. Conflict, displacement, and poor transport have made it impossible for many people to farm or work at other jobs. At the same time, food prices have increased with the scarcity of commodities.
*Name has been changed
You can make a difference in the lives of children in South Sudan who suffer from food insecurity. Please donate to World Vision's lifesaving programming here so more parents don't have to see their children suffer from malnutrition.
Photo: Typical homes in Warrup State, South Sudan. © 2015 World Vision/ photo by Jon Warren