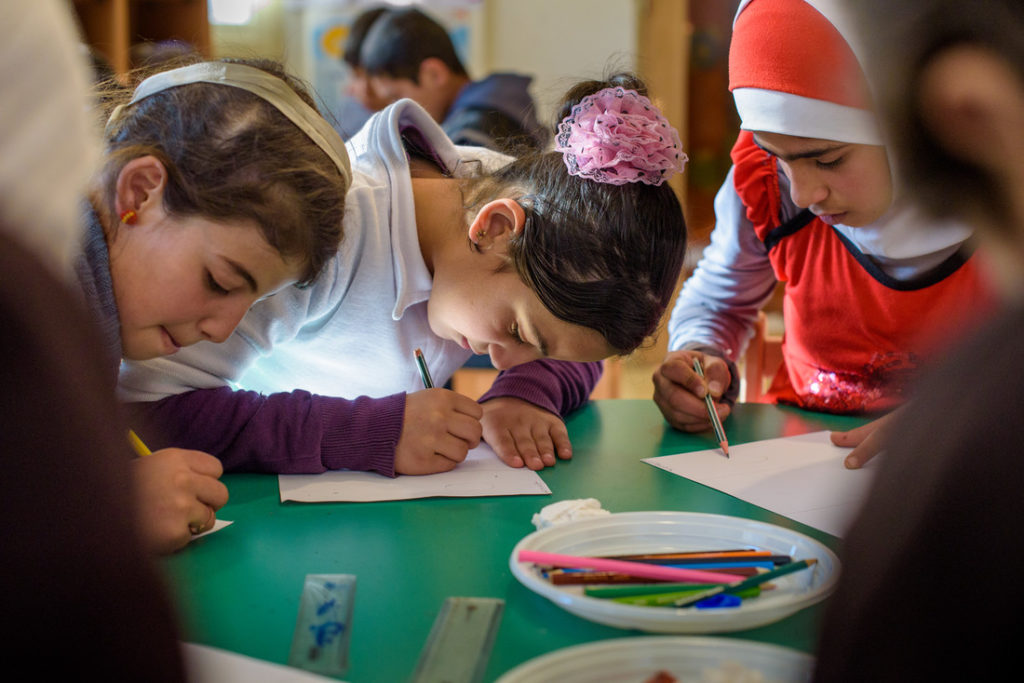 Syrian refugee children in Lebanon are haunted by their losses. But those who attend Child-Friendly Spaces have a chance to heal and reclaim their childhood. This story was originally posted in World Vision Magazine. To view the whole story click here. To contact Congress about humanitarian funding for refugees, including education, click here [action expired].
By Kathryn Reid
About a dozen children talk excitedly and pick out drawing supplies for their next activity when 11-year-old Jouri's voice rings out above the hubbub. Her song of a refugee's solidarity with those left in Syria is as current as the daily news:
In a tent in Bar Elias; a refugee, but my head held high. Nobody has seen me, and I still love you brother.
Classmates and teachers stop their chatting and surround her. They beat time to the rap-like rhythm and join in loudly on the chorus in Arabic.
The teachers, called "animators," at the World Vision Child-Friendly Space (CFS) can only marvel at Jouri's confidence and composure. When Jouri first joined the CFS, she was fragile: quiet, withdrawn, and often close to tears, says Huda, one of the animators.
Her transformation seems near-miraculous.
At first glance, a Child-Friendly Space might seem like any kids' activity center. On the walls there are brightly colored construction paper cutouts of circles, squares, birds, butterflies, and flowers. The air is alive with songs and laughter.  But here in Lebanon's Bekaa Valley, just 30 miles from Damascus, Syria, the thud of bombs can be heard even closer. The warm and welcoming Child-Friendly Spaces and people who staff them provide an oasis in the bleak lives of thousands of Syrian refugee children.
During 2015, World Vision assisted more than 12,000 children in Lebanon, Jordan, Syria, and Iraq with child protection and education programs. In Lebanon, those services include not just Child-Friendly Spaces, but also early childhood education for ages 3 to 6, digital hubs for computer learning, early childhood development classes for parents, and outreach for children and families with psychosocial needs.
Sitting in their living room, Jouri begins her family's story by saying, "When I was a child … " Her mother and grandmother listen as she recounts fleeing from town to town; the time a blast from a car bomb destroyed the balcony and blew out the doors of a house where they were staying; and how her uncle, who brought them to Lebanon, died after he returned to Syria.
Those horrific experiences would be enough to shake anyone's confidence. Jouri is haunted by a sense of loss and longing, her mom, Haisha, says. Jouri's father has been missing in Syria for most of the three years since the family came to Lebanon. When last seen, he was wounded. Jouri doesn't know whether he's dead or alive.
Read more stories from Childhood Lost and Found, here.
Ask your members of Congress to support robust funding for humanitarian accounts that support refugees [action expired].
Photo: Child-Friendly Spaces help Jouri (center) and friends bring life and color to their memories and their dreams. ©2016 World Vision/ photo by Jon Warren