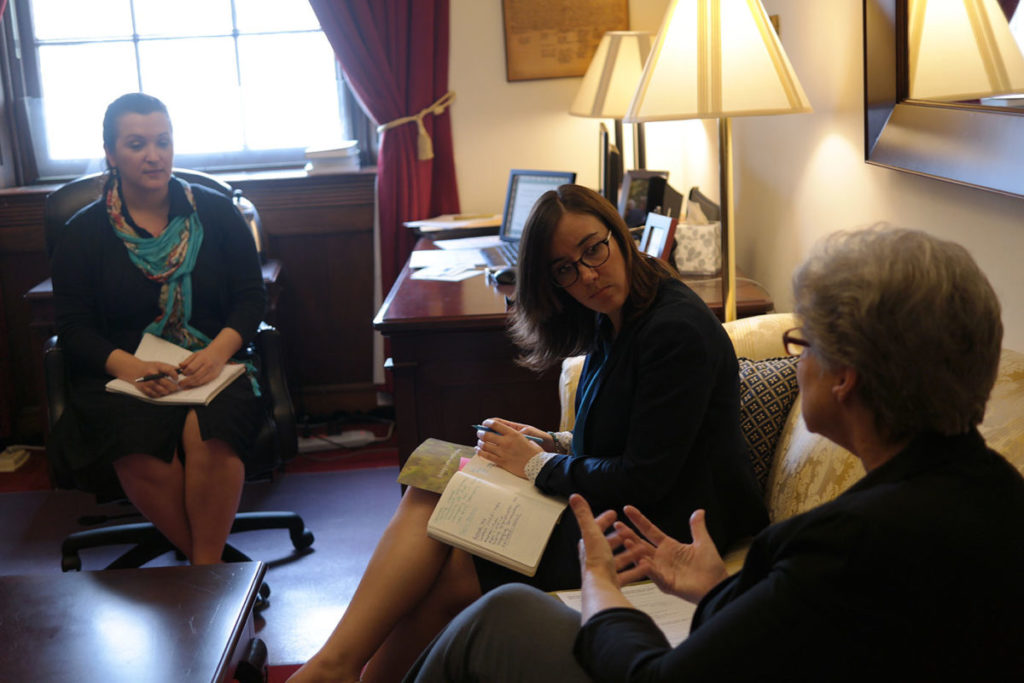 You have the opportunity to meet with your members of Congress in their districts this month, and as we approach Independence Day, we hope you see it as a blessing to be able to meet with our country's leaders and advocate for what we all care about. While in-district meetings may seem intimidating for those of you who have not yet met with a member of Congress, today we want to share with you a few encouraging words from other advocates. Remember, members of Congress are real people with normal concerns who are there to represent you!
For Jill, who advocated for the Water for the World Act, she feels that it is "a privilege and a responsibility to advocate for those who are oppressed. The Bible tells us, 'For we are God's handiwork, created in Christ Jesus to do good works, which God prepared in advance for us to do' (Ephesians 2:10). Advocating for the marginalized and those without a voice is one of those "good works" that He has created in advance for us to do!" You don't need to get weighed down with the pressure of the meeting because it is not your meeting, but God's. Let God guide you and steer you toward His will.
Another advocate, Ruthi, who has recently had meetings with her members of Congress in D.C., "would encourage anyone who hasn't advocated yet to 'go for it!' Sharing that 'it's not that hard or scary, you don't have to know all the answers or have all the info…The World Vision advocacy team makes it super easy. [And don't] underestimate the privilege and power that we have as American citizens…We have a responsibility to let our leaders know that we care about others around the globe.'" It is easy to be afraid of not knowing the answer to a question, but as Ruthi shares, it isn't necessary to have the answers. Your passion for the issue is what really matters and makes a difference in these meetings.
Advocacy is for people of all ages and experience levels, so don't let the fact that you haven't advocated yet or don't have a connection with a member of Congress stop you from setting up an in-district meeting. Student advocate, Bella DeVaan, says that "Anyone is capable of being an advocate by identifying their entry point, harnessing their skills, and being an effective, humble collaborator."
Cathy, who has advocated on behalf of women and children around the world, "wants you to know that even though the overall outcome is God's responsibility, He is asking us to be available and get involved as He leads." Trust in the power of God and know that if you follow His command to go forth and love, that your advocacy will go much further. Join us in pursuing a more just world for all of God's people by advocating.
We hope that these advocate's experiences encourage and inspire you to meet with your members of Congress. We have lots of resources to help you prepare for your in-district meeting, and we will walk with you every step of the way!
• Check the box on the in-district meeting sign-up form to join our July 12th conference call — the call will focus on preparing advocates for meetings!
• Our In-District Meeting Guide will give you an understanding of what the purpose of an in-district meeting is and how to pull it off.
• Use these tools to learn more about the legislation we're advocating for and to download leave-behinds to give to your representative's office during your meeting.
• For other tips and tricks for a successful in-district meeting, check out this blog!
If you haven't already, sign up to let us know if you are meeting with your members of Congress!
Photo: Women of Vision Advocate (right) and Jessica Bousquette (center), policy advisor for child protection, meet with a Congressional staffer (left). © 2016 World Vision/ photo by Christina Bradic