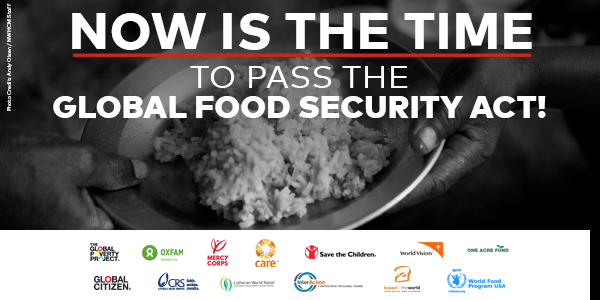 Call your representative and ask them to vote 'yes' on the Global Food Security Act.
Next week the U.S. House of Representatives may take a final vote on whether or not to pass the Global Food Security Act (GFSA). Voting yes will move the bill to the President's desk for signature into law. But, first, your elected official must hear from you. Now is the time to speak out for the GFSA – ask your representative to vote 'yes.' Their vote would support legislation that will empower farmers around the world in lifting themselves out of poverty.
Supporters like you have already taken over 5,000 actions (phone calls, emails, op-eds, and more!) to support this bill and — in a few days — we will see how our hard work has paid off.
Why the GFSA?
1 in 9 people in the world today (795 million) don't have enough food to eat each day
Poor nutrition is the underlying cause of 45 percent of preventable deaths for children under 5 — 2.8 million children
Globally, 100 million children (1 in 6) are underweight
Sixty-six million primary school-aged children attend classes hungry, inhibiting learning potential
What does the GFSA do?
If passed, this bill will assist families and communities around the world in their efforts to end hunger, malnutrition, and food insecurity in their lifetime — an achievable goal that can be made all the more possible by passing and enacting the GFSA into law.
increase women's empowerment and provide agricultural opportunities
improve agricultural productivity
improve small-holder farmers' access to markets to support market-based economic growth
prioritize nutrition for women and children
educate families and communities on best dietary practice
increase sustainability, transparency, and accountability in current U.S. food security investments
Who will benefit?
People like Santos Cosme's family, a small-holder farmer who lives in Honduras.
In 2009, disaster struck Santos Cosme's family.  Insects destroyed almost their entire crop and that of many other farmers. The family was forced to take out a mortgage on their home to make up for the money they lost on the crops.
"It was very difficult times, and we really had to work very hard to overcome that situation. I felt a lot of despair," says Santos Cosme.
Several good things did come out of that disastrous time. World Vision had trained Santos Cosme. on how to make his crops more resistant to disease through soil preparation and also by setting up a barrier between tender transplants and insects.
"The training has been very, very helpful," says Santos Cosme. "It did help me recover because I always say once you learn something, it's always there in your mind. So we have put into practice what we've learned."
His wife shares, "Before, the food was kind of rationed. My children sometimes ate only tortillas and salt. Nowadays, it is different because they eat vegetables and beans we produce in the plots. [Without World Vision] we were poor and poor in mind as well."
Importantly, Santos Cosme's experience is similar to that of many other farmers who are currently participating in the U.S. government's flagship food security program, the Feed the Future initiative, which is in 19 countries around the world. Passage of the GFSA will continue this important program and support millions of small-scale producers like Santos Cosme in growing their own way out of poverty, ensuring a more promising, sustainable future for thousands of families and communities around the world.
What can I do?
To put the Global Food Security Act in effect, the Senate version of the bill has to be voted on and passed by the U.S. House of Representatives. As a constituent, you have a part to play: ask your representative to vote 'yes' on the GFSA. Once it is voted on and passes in the U.S House of Representatives, the bill can be signed by the President and become law.
To learn more about the U.S. legislative process, check out our infographic seen below.  You can see how far the GFSA has come thanks to your advocacy — and how close you are to bringing it across the finish line!
Call your representative and ask them to vote 'yes' on the GFSA.