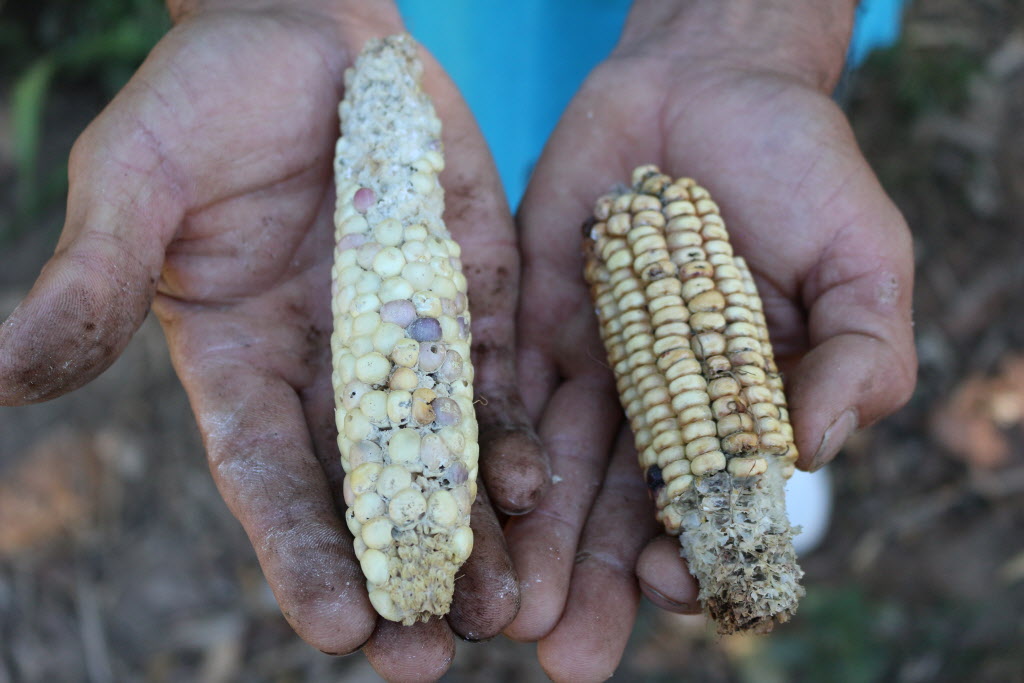 This is the time of year when snow storms cover many parts of the country. When we are lucky, there is warning. The story often dominates the news, including reporters bundled up and waiting for the snow to start, and shots of people in line at the grocery store. Often shelves empty as people stock up on an abundance of milk, eggs, bread, frozen pizza, and the like. Sometimes the snow comes and sometimes it doesn't, but being able to plan ahead gives people a sense of security.
Many parts of the world are experiencing El Niño right now, a naturally occurring phenomenon characterized by the warming of ocean water that impacts weather around the world. While every family looks for security, especially when it comes to food and agriculture, unpredictable weather can make it more difficult.
Beth Ann Saracco, World Vision policy adviser for food security and livelihoods, recently attended a briefing on Capitol Hill about the impact of El Niño.
Last week on Capitol Hill, a standing-room only crowd of Congressional staff, US government officials, and development and humanitarian practitioners gathered for a briefing entitled "El Niño's Strength: Smallholder Farmers, Food Security, and Resilience."
Allan Jury, vice president of public policy at the World Food Program-US hosted an hour-long panel including remarks from: Dina Esposito, director of the Food for Peace Program, the US Agency for International Development (USAID), Thabani Maphosa, World Vision senior director for food security and livelihoods, and Mara Russell, director of food security,  for CARE US.
The event focused on the powerful El Niño of 2015-2016, which may be the most powerful in the last 50 years and its intensity is bringing historic droughts and erratic rains to many countries in Africa, Asia, and Latin America. As a result, the impacts of the 2015-2016 El Nino is threatening food security in some regions and rolling back recent gains made in previous years against hunger and malnutrition. The panel discussed efforts that are underway in agriculture development programming that are helping small-scale farmers respond to El Niño and protect their crops and food production.
The panel began with an initial reflection on the recent blizzard that hit the East Coast, specifically the Washington, DC area where the majority of the attendees reside. Many in the audience were impacted by the severe storm that caused a two-day government closure and delayed arrivals for all federal offices in the region. It was noted that powerful weather events can cause major disruptions to people lives, as well as test their ability to adequately respond to such shocks, whether that be in a developing country or in the U.S.
The panelists discussed some of the resilience efforts underway by host countries, the U.S. government and other partners in supporting small-scale farmers prepare and respond to weather-related stresses like El Niño. Additionally, the following key points were made:
FEWS NET (the Famine Early Warning Systems Network) is an invaluable resource in projecting future food emergencies.
FEWS NET, the Famine Early Warning Systems Network provides life-saving information and analysis in forecasting future food emergencies, allowing governments, decision makers, and relief agencies time to plan for future food emergencies, and gather the necessary resources needed to adequately respond.
Resilience programming is making a positive difference around the world.
Resilience, as defined by USAID, is "the ability of people, households, communities, countries, and systems to mitigate, adapt to, and recover from shocks and stresses" that helps to reduce issues such as chronic food insecurity vulnerability and facilitates inclusive growth. Investments in resilience programs are recognized as a critical intervention that helps reduce chronic food insecurity and improves livelihood opportunities. Currently in Zimbabwe, World Vision and its partners through the support of the USAID Office of Food for Peace are building resilience to droughts and erratic rainfall currently threatening crop production. By strengthening farmers' knowledge and skills, as well as utilizing existing resources, these efforts are helping communities cope with the impact of El Niño. Other efforts are underway by CARE US in Haiti, where a safety net program is being implemented that provides vouchers to vulnerable families impacted by poor planting seasons and increases in food prices.
Flexibility in food assistance programming matters:
Food assistance needs may differ widely depending on the circumstances in a particular community, country, and/or region. The panel discussed how current flexibilities in food assistance is helping the US government and its partners respond more efficiently and effectively in the countries where it partners.
As the US government begins to consider its budget for the fiscal year 2017, it's imperative that food security programs that build resilience and respond to food shortages be well funded. Additionally, we also call on Congress to pass the Global Food Security Act (H.R 1567/ S. 1252) which if enacted will further advance agricultural development and nutrition, and thereby continue to strengthen community's resilience and livelihoods in the process. Send an email to your members of Congress today!
Photo: A farmer in Honduras shows the effect that a drought, caused by El Niño, is having on his crops. © 2016 World Vision/ photo by Israel Ortega Carcamo